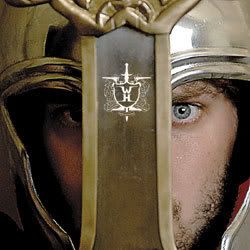 DOWNLOAD: "HUZZAH" - FROM THE NEW RECORD.

MASTERY OF THE STEEL hit stores nationwide today! (You should go get one, and ask if you local indie store has it ... and then come back and tell us - we love you in advance.)


FYI: THIS KILLER CLOSE-UP IMAGE OF GREG IN A HELMET WITH A SWORD [THANKS AND KISSES TO dRACOsINISTER BLADES.] IS THE AWESOME OFFICIAL COVER-ART FOR THIS RECORD!!!


(Don't be fooled by foolish iTunes - we are trying to get the wrong graphic taken down from there and fixed ASAP!)
IN "MORE FUN" NEWS THE
CLEVELAND FREE TIIMES
DID AN AWESOME "***" PRETTY SPOT-ON MUSIC REVIEW OF

MASTERY OF THE STEEL:
"If four dudes who grew up on vintage metal like Iron Maiden and Judas Priest resided in NYC during the dance-punk explosion, they'd either throw full beers at the Rapture every time they took the stage, or they'd start a band that sounds like Witch's Hat. That's right — somehow a band has found a way to combine big guitars, a crafty rhythm section, half-shouted vocals and lyrics about octopuses, dragon slayers, vampires and aliens into a great record.

So how do they combine the fist-pumping machismo of metal with the too-cool-for-school hip of dance punk? Well, they don't. Witch's Hat casts off both those genres' prerequisites, instead creating a vibe that is both irony- and posturing-free. Sure, the fantasy lyrics can't be serious, but they seem to come more from the realm of goofy good times than from masculine assertion or tongue-in-cheek pretentiousness, and the music seems to work the same way. The funky bass lines aren't a demonstration of virtuosity, just a push onto the dance floor, while the bravado behind lyrics about robots aren't a display of testosterone, just a way to keep rocking - the only goal that Witch's Hat seems to have." —

Matt

Whelihan